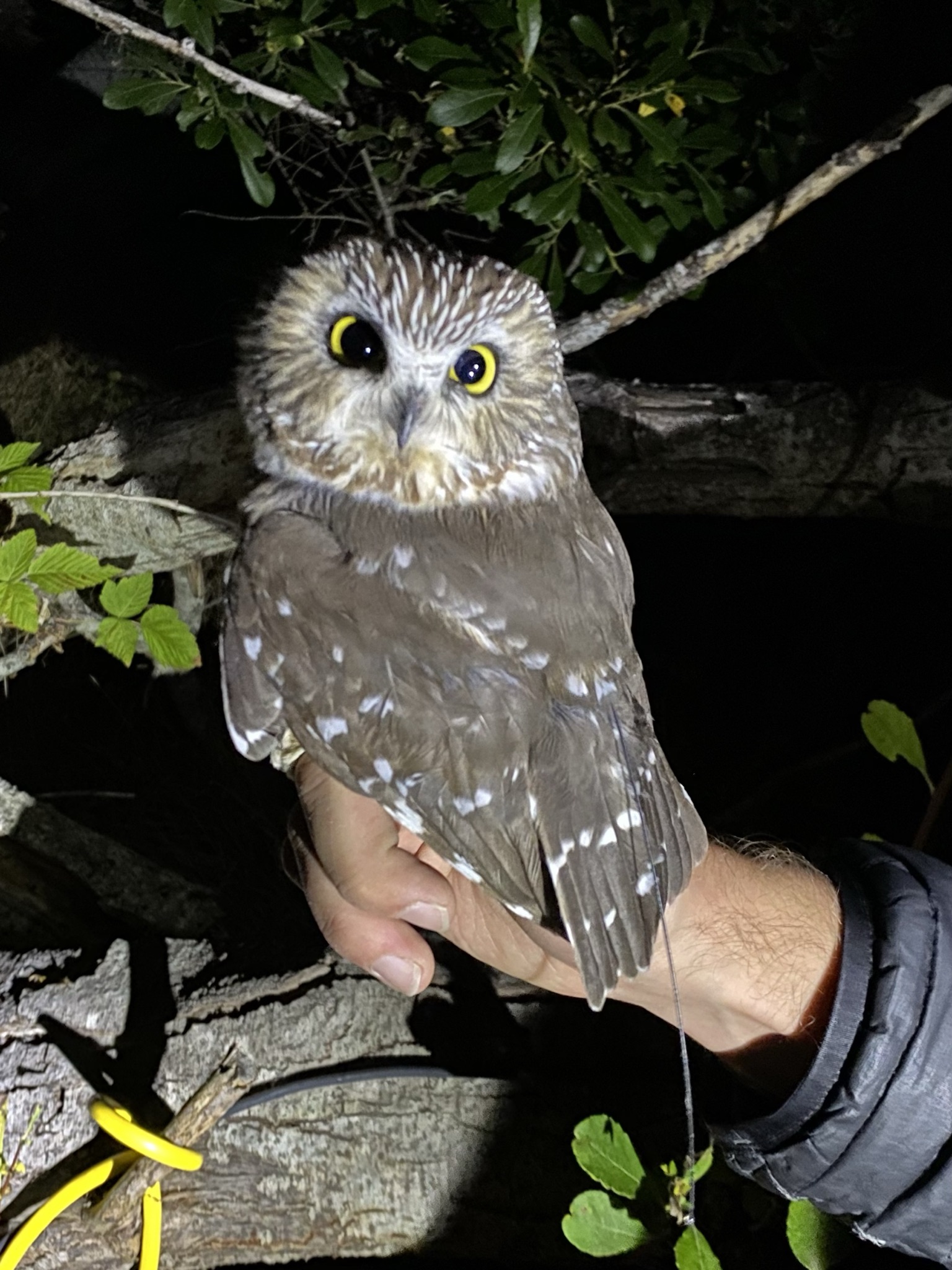 Sooooooo many Northern Saw-whet Owls!!  Lots of other amazing birds and adventures during 2021 at the Rocky Point Bird Observatory too! On this episode Ann Nightingale and Jannaca Chick joined us with a wrap-up of the banding season and to do a bit of a deep dive into the second busiest year of Northern Saw-whet Owl banding at RPBO.
This year a pilot project was launched to deploy 38 Motus tags on Northern Saw-whet Owls in collaboration with the Vancouver Island University and the Tatlayoko Lake Bird Observatory. Curious about what Motus is? Check out this amazing technology by visiting motus.org and search for Project 434 - Tracking movement of Northern Saw-whet Owls in Coastal BC (#434)
Want to support (adopt) and follow a Northern Saw-whet Owl with a Motus tag? The Adopt a Motus-tagged Northern Saw-whet Owl program is now available by visiting Adopt a Motus Tagged NSWO 
Follow the Rocky Point Bird Observatory Fall Migration Blog that was written each week by a banding team member by clicking on this link.  RPBO Blog
The Team Rocky Pointers completed their Big Sit on October 9th to raise funds for the Birds Canada Great Canadian Birdathon and the Rocky Point Bird Observatory.  So far $5,450.00 has been raised and the team is still accepting donations until December 31, 2021.  You can support them by following this link The Rocky Pointers . A BIG shout out to the team members who participated in both of the 2021 Global Big Day's and a special thank you to those who made a donation. 
Are you interested in joining the Rocky Point Bird Observatory team as a Lead Educator? It's a part-time paid position and you can contact President Jennifer Armstrong for more information at prez@rpbo.org or at rpbo@rpbo.org
Check out the Rocky Point Bird Observatory website at rpbo.org and visit their Facebook Page or Instagram Page for photographs from the 2021 banding seasons.
The Rocky Point Bird Observatory is a non-profit organization and relies upon donations and grants to operate. If you would like to support the organization or this podcast you can do so by following this link: Donate to the Rocky Point Bird Observatory
To find out more about the Rocky Point Bird Observatory, become a member or even volunteer with them please visit the website at rpbo.org
Please be sure to visit and follow us on the Bird Babble Podcast Facebook Page and the Bird Babble Instagram Page
If you have any questions or comments, they can be sent to us at birdbabblerpbo@gmail.com
Music for this Bird Babble episode is provided with thanks by Purple Planet and their website can be found at purple-planet.com